…with so much ham around!

​If there's a type of cuisine that strives to offer good raw materials and novel recipes, that's vegan cuisine. I know you are trying to taste different things, I advise you to do as I do and take a look at this list, because eating vegan is a culinary discovery.

I particularly like everything so I'm open to all kinds of food, that is why I love to go to vegetarian restaurants from time to time, because they know how to take the best of vegetables to make them tasty. Step right up!

So here a list of the most highlighted veggie restaurants at the capital city:

Viva Burger

A veggie classic in Madrid, it was one of the first ones I tasted when I started to enjoy veggie food. Now it's much more elaborated. And yes, its specialty is the veggie burgers with 11 different types like Chingona or Smoked, but do not miss its salads like the Silvestre, which is delicious.

Cookaluzka

Abundant and homemade food with Venezuelan touches near Retiro Park. For example, its Arepa Burger, made with lentils and where the bread is substituted by corn arepa.

A good chance to try cuisine from other parts of the world with vegan recipes, and a great daily menu.

Pura Vida Vegan Bar

In La Latina you can also enjoy homemade vegan food. It's a

small and cozy place that's famous for its great pizzas

. But there're much more. They have solidarity burgers with the name of animals, and donate 1€ to the corresponding NGO.

Botanique

In a small market stall of Antón Martín Market are demonstrating that vegan cuisine can be creative and avant-garde. So much that they have already stepped by great chefs like Mario Sandoval (famous journalist) interested by their kitchen.

Authentic vegetarian cuisine like Crudiveganos cheeses table, could be at any Michelin restaurant!

Kilómetros de Pizza

They're specialized in two-meter pizzas

and take a look: Cream of wild asparagus, two types of artichoke (natural and with balsamic oil), pepper, two textures of zucchini and eggplant.

Pui's Thai Tapas

This restaurant has wanted to unite a very Spanish concept with the best of Thai cuisine, one of the best countries to travel and know Southeast Asia.

It isn't all vegan, but they've options like their famous Som Tam salad, made with papaya, beans, chili and lime.
Powered by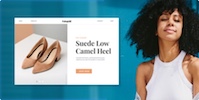 Create your own unique website with customizable templates.